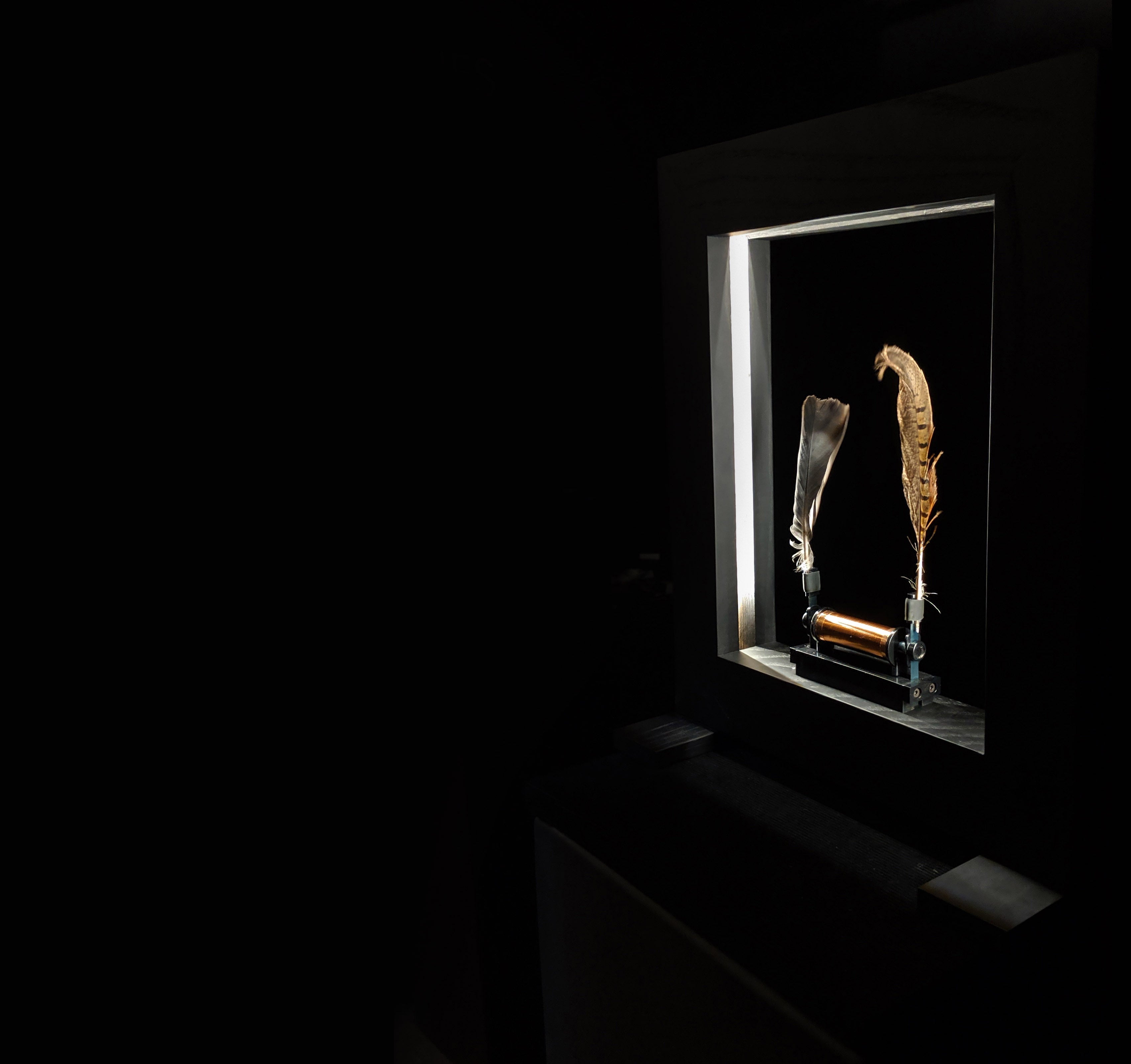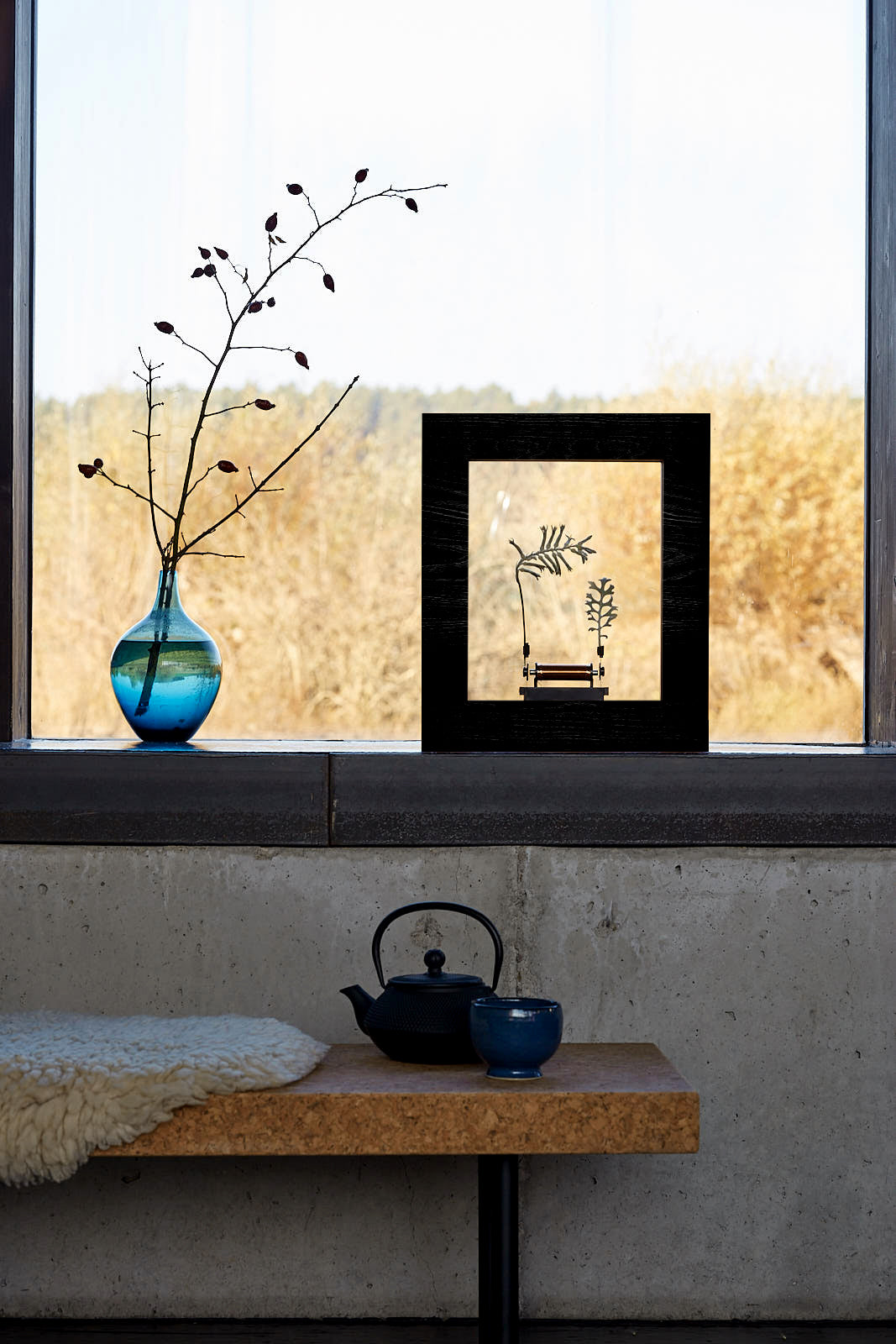 Slow Dance – A frame that slows down time
WIRED called it "stunning". It raised over 500,000€ on Kickstarter. Slow Dance is a picture frame that makes real objects appear to move in slow motion. Now back in stock.

Each order includes:
· Two feathers
· EU, UK, US or Australia compatible power adapter
· Wall mounting hook
· Optional feet for stability

Ebonized Ash
Craft Pine
Light Pine
Free Delivery

Original Design

Fulfilled in EU

What started out as a wedding gift..
..quickly raised over 500,000€ on Kickstarter..
When science meets art
Slow Dance uses strobe lights and electromagnets to create an optical illusion where real objects appear to move in slow motion.

Watch Jeff explain more in the video below.

1 frame. 3 unique illusions.

The Slow Dance has different modes, that all display a different illusion. Switch easily between the modes and find your favorite!

Slow Dance
In this mode the object appears to move in slow motion.

Double Trouble
Looks like the object starts as one, and splits into two parts before reforming.
Pop and Lock
The object looks like it jumps through space, like a 1930s slow motion movie!
Original Art by Jeff Lieberman
Designed by our founder Jeff Lieberman, known from Discovery Channel and a pioneer with art that bends the rules of physics.

What started as a wedding gift for a friend, has now taken the world by storm.

Jeff Lieberman
Designer & Founder

Thank you! :)
I originally bought Slow Dance as a wedding gift. However, I found it so fascinating that I had to buy one for myself as well. Thank you so much for this eye-catcher!
Peaceful motion
Great item and top responsiveness from Jeff and his team.
Looks great and is exactly as described!!!
Art piece made some noise upon activation, but with some (very reactive) support I could easily fix it. A very pleased customer.
Brilliant! We sat mesmerized...
I can't speak enough to this beautiful creation. The first thing to note is the packaging…how it is GORGEOUS and clearly created with so much care. Even just to open it is a joy…especially as a designer. The details…
We plugged it in with some friends, and spent the next hour marvelling and experimenting with different plants and materials to see how they work. Thank you for creating this product. It's clearly made with love, and I'm grateful to be able to give such a beautiful gift to a special person.
Zen machine
I absolutely love this wonderful machine. It's beautiful and well crafted. Makes me calm.
Natur optimieren
Ich liebe diesen Rahmen ich bin Floristmeister und liebe die außergewöhnlich Formen der Natur in diesen Rahmen werden sie optimal presentiert
Mesmerizing
The slow dance effect is just mesmerizing. Watching it is a like relaxation therapy. It does have a hum because of the electronics, but it doesn't bother me.
Wonderful item.
I purchased the first one on kickstarter and it moved to my store, many customers were fascinated and purchased it in turn on my recommendation. It is a magnificent object. Only downside is the tightness of the rubber bands over time, you should provide a spare pair in the box.
Hi Oreste - Check in your accessories box in the ziploc bag - every Slow Dance does come with two backup rubber bands! If you can't find them, let me know and I'll send you some replacements. Best - Jeff
Better than I imagined
I didn't expect the illusion to be so thoroughly convincing. Just amazing.