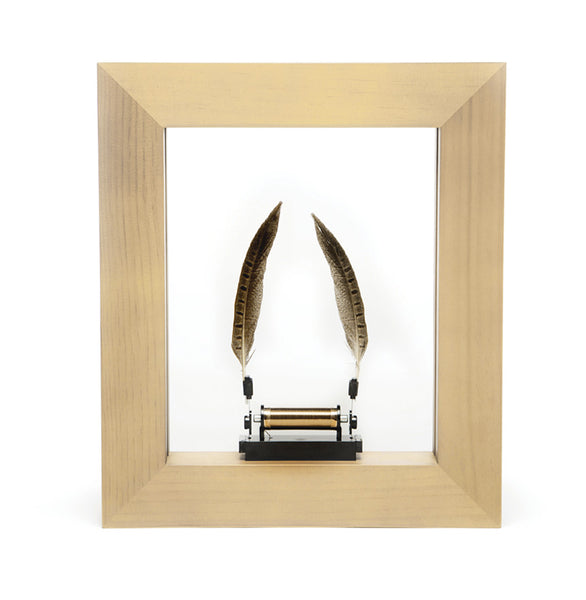 Slow Dance - Light Pine
By Jeff Lieberman

Free delivery on EU orders


"Slow dance" is a picture frame that makes real objects appear to move in slow motion. By taking advantage of the limits of human visual perception, this optical illusion sculpture appears to be doing the impossible — right before your eyes. Slow Dance combines technology, science, and art, in order to remind us of the natural mystery, beauty, and wonder that surround us every day.
Comes with:
• Two feathers 
• US, European, Australia or UK compatible power adapter
• Wall mounting hook
• Optional feet for stability
• 1 year Limited Warranty (warranty text in FAQ)
Total €478,80 Plus €20% in taxes.

VAT/Custom Duties rates Outside the Eurozone apply to: Iceland, Liechtenstein, Norway, Andorra, Vatican City, San Marino, Switzerland, United Kingdom

€478,80
Ways to mount:
Standing
With feet
Wall mounted
Free delivery on EU orders
Original design
1-year warranty
Slow Dance makes things move in ways you never thought possible. For all those who love mystery, beauty, and wonder.
In this mode the object appears to move in slow motion.
The object appears to move in ultra slow motion.
Looks like the object starts as one, and splits into two parts before reforming.
The object looks like it jumps through space, like a 1930s slow motion movie!
SLOW DANCE
In this mode the object appears to move in slow motion.
SUPER SLOW DANCE
The object appears to move in ultra slow motion.
DOUBLE TROUBLE
Looks like the object starts as one, and splits into two parts before reforming.
POP AND LOCK
The object looks like it jumps through space, like a 1930s slow motion movie!
AS SEEN ON
"This looks like pure magic."
"One for every room in existence, please."
"You want to stare at it for hours."
"Could be the lava lamp for a new generation."
"This slow-motion machine is so stunning we almost don't want to tell you how it works."
"Undoubtedly one of [Jeff's] most impressive creations."
USING SCIENCE TO CREATE MAGIC
Slow Dance combines high speed strobe lights with high-speed vibrations, creating a stunning visual illusion.

With strobe lights blinking 80 times a second, your eyes cannot even see that they are blinking - the light looks continuous.

By synchronising the strobes to the vibration of objects (created with the magnets and central electromagnet), we create the visual illusion of those objects moving in slow motion.
ORIGINAL ART BY JEFF LIEBERMAN
When my closest friend from college Eric was marrying my new friend Emily, I considered it the time to give them a once-in-a-lifetime gift. They were both dancers, and so I immediately thought about creating something where two 'opposites' danced with one another.

I had been playing for years with techniques that allowed me to use high-speed stroboscopy to make things look like they were moving in slow motion. But after weeks of hand-designing dozens of objects that might vibrate in interesting ways, I was stuck — none of them had the wondrous impact I was searching for.

Somehow they didn't surprise me enough as a viewer to create impact. I went for a frustrated walk around the block of my office thinking "What is missing? Why can't I design something that looks incredible to see moving in slow motion?" Lost in thought, a branch hit me in the face. I looked at the branch.It was a Eureka moment.

That pine branch was more beautiful than anything I as a person could design, and had evolved over millions of years to vibrate in the wind. I looked all around the environment — branches, flowers, feathers and more — with a sense of awe suddenly realizing that nature had designed millions of artifacts more beautiful than I ever would. And using what I knew, I could make them look like they were dancing impossibly, in slow motion.
READ MORE
GOT QUESTIONS?
How loud is it?
Incredibly quiet. The loudest thing is the object itself moving through the air, and the magnets can be adjusted to change the 'volume' of movement, so if you make the movement very large, it will create more noise. We can't hear a feather from 10 feet away in a quiet room. For the techies out there, we estimate it's around 30dB.
Is it safe to touch?
Yes! Please touch it! If you touch the objects you will feel the secret that your eyes cannot see - that they are vibrating very quickly (80 times back and forth every second). It's a fun way to discover the illusion. The electromagnet is totally safe to touch as it is all at very low voltage and strength. It's fun for all ages.
What kinds of things can i put into Slow dance
Since the slow motion effect depends on vibrating objects very quickly, light objects that vibrate repeatedly work the best. So far we've found the best things are feathers, plants, and flowers. That said, we've also seen custom origami, bent wire, even googly eyes(!) in the mix, and look forward to many more surprises!
Great service, stunning device
I really love slow dance. Nice to look at the moving feathers, see the face expressions of friends and family and very satisfied when trying new leaves, herbs and so on with the people you love.
Fantastic and hypnotic tech product
The quality and functional results are miles away from third cheap copies, the presentation, genuine materials, finish, low noise and results are was expected at a just price, Highly recommended!
Beautiful and a perfect addition to my altar
Watching this as part of meditation has really helped calm my nervous system. Thank you!